Why is your internet running slow and what should you do?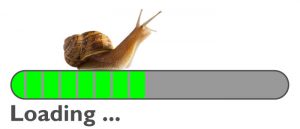 First you need to check what devices are connected, and what they're doing.
Is someone watching Netflix? Downloading photos or videos? Online gaming? Streaming radio? All of these things use up bandwidth. Programmes that run in the background of your devices, like iCloud backups, can also take up a lot of your speed. Turn off all the programmes running in the background on your devices and try again.
Once you've checked who's on your network, and what they're doing, you can run a speed test by clicking on this link: www.speedtest.net. If you have no devices running and you have a 4MB account the speedtest should show 4MB, if you have a 2MB account it should be 2MB, and so on.
Be aware that if, for example, you are streaming a 4MB movie on a 4MB account, a speed test will show 0MB, it shows you the bandwidth that is not being used at that moment.
It's also important to realise that some older devices will show slower speeds because they can't stream as quickly, so it's usually best to run a speedtest from a computer if you can.
If you've done all of the above, and your speed test is still below what you expect from your package, please click below, complete the form on the FAQs page and someone from the helpdesk will get back to you as soon as possible.