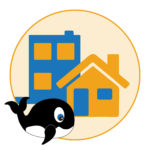 Home and Business Combo Package
Cost effective internet for your home and office.
We believe that as a business owner in the Overstrand you deserve to have fast reliable connectivity for your business when you're working, as well as to relax at home after hours without having to pay for 2 full connections.
This package is THE most cost effective way of accomplishing just that.
Take any of our Home or Business packages  for your business and for just 40% more you get that same connection at your house. Given the huge discount on this package we do reserve the right to confirm that both premises are owned / occupied by the same occupants, and please be aware that two installs are required to deliver connectivity to the two premises.
If you have a business (or businesses) in our coverage area and are looking to ensure you have the most effective connectivity possible, WE are your guys.